We use affiliate links. If you buy something through the links on this page, we may earn a commission at no cost to you. Learn more.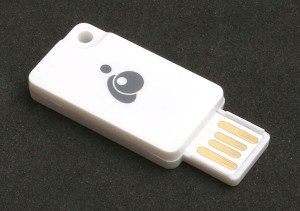 Picture this scenario: You are sitting in front of your laptop or desktop computer texting your friends on your smartphone using its onscreen keyboard. Most of us do this activity many times a day. But I know of a gadget that will make texting and emailing on your phone much easier and faster – especially if you're already a touch typist. It's the KeyShair Bluetooth Keyboard/Mouse sharing adapter and it's going on my Julie's Favorite Gear list ASAP. Keep reading to find out what it is and what it can do.
Note: Images can be clicked to view a larger size.
The KeyShair is a USB stick that most people would easily mistake for a thumb drive. It's made of white plastic with a hole in one corner so you can attach it to a lanyard or keychain. This adapter will allow you to use your full sized PC or Mac keyboard and mouse with your Android, iOS device, Windows Phone or even another computer as long as the second computer has Bluetooth. The shared mouse and keyboard don't even have to be wireless for this to work.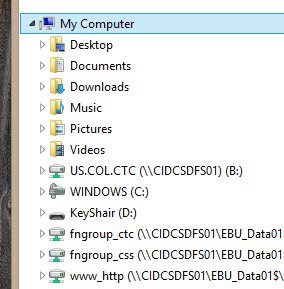 When you plug the KeyShair adapter into a free USB port on your Windows PC or Mac, it shows up like an external drive. When you click on the drive, you'll find a Win and Mac folder, each with an application inside. A double click launches the app.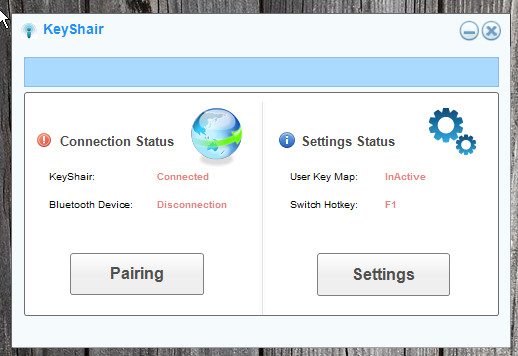 From there you'll need to pair the KeyShair adapter with your iOS or Android device by clicking the Pairing button on the desktop app. This means you'll need to make sure you have Bluetooth enabled on the mobile device. However, your PC or Mac doesn't need to have Bluetooth built in as the KeyShair adapter takes care of that.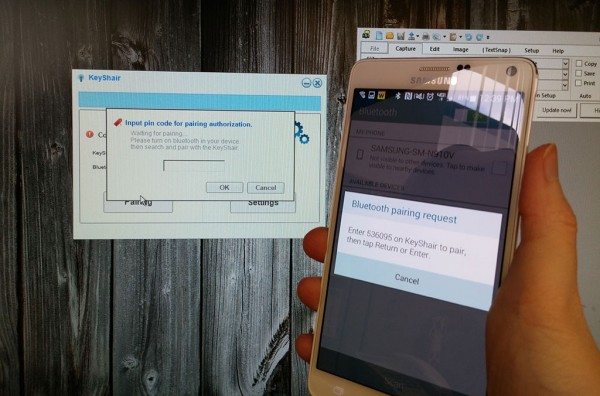 Your mobile device will find the KeyShair and will display a 6-digit pin code to type into the desktop app to authorize the connection.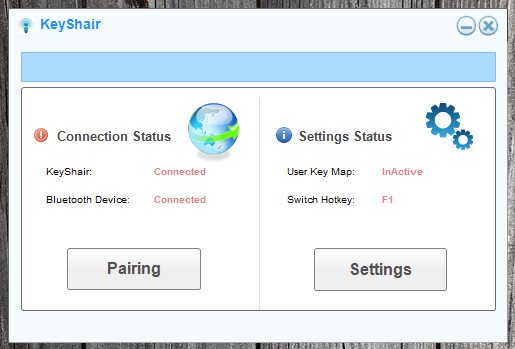 Presto, you're connected! You can then customize settings by clicking the Settings button.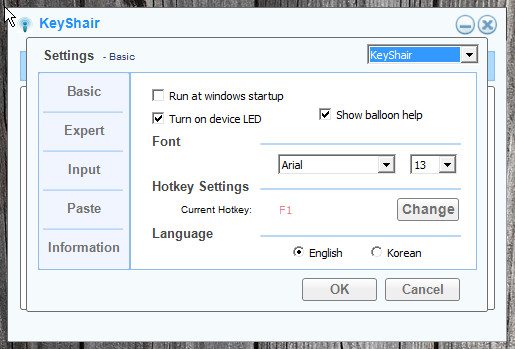 This will let you disable to flashing LED on the KeyShair adapter, change the hotkey…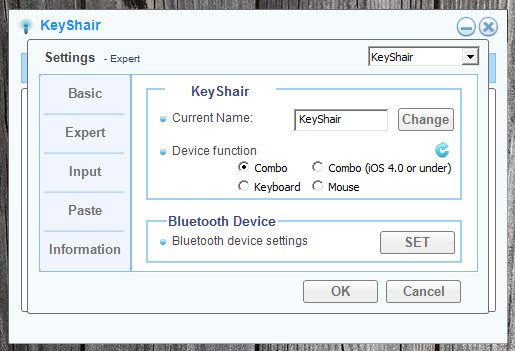 Customize the name of the adapter, function and change some Bluetooth settings.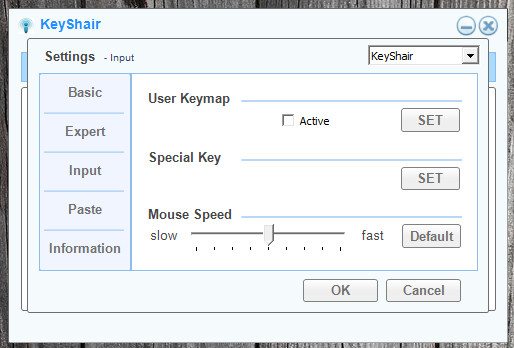 You can also adjust mouse speed and …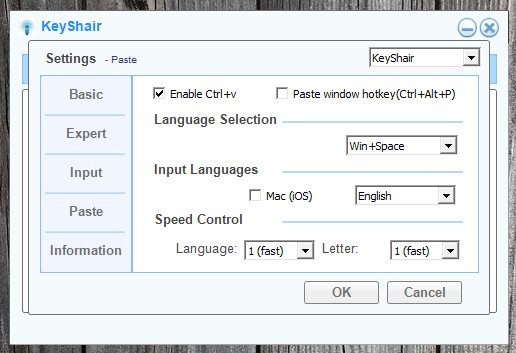 Enable text paste settings.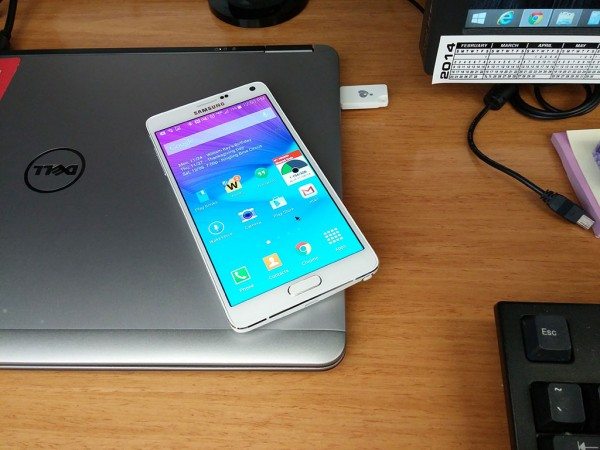 I tested the KeyShair with a Samsung Galaxy Note 4, an LG G3, a first gen iPad mini, Dell Windows 8.1 laptop and a MacBook Pro. I had no trouble pairing any of the devices to the adapter while plugged into a PC or Mac. The only difference between setting up the Keyshair on a Mac vs. a PC is that you have to enable accessibility in the Security settings on the Mac. Then you press the hotkey, which is F1 on a PC and FN + F1 on a Mac. As soon so you press that key, the mouse and keyboard stop working on the desktop computer and start working on the paired mobile device.
Note that the mouse function won't work on an iOS device unless it has been jailbroke. But on an Android device, you'll see an arrow pointer (see it in the image above?) appear on the screen that can be controlled with your desktop mouse. You can use the pointer to unlock the phone, launch apps, scroll through lists and interact with it just like tapping with your finger or a stylus.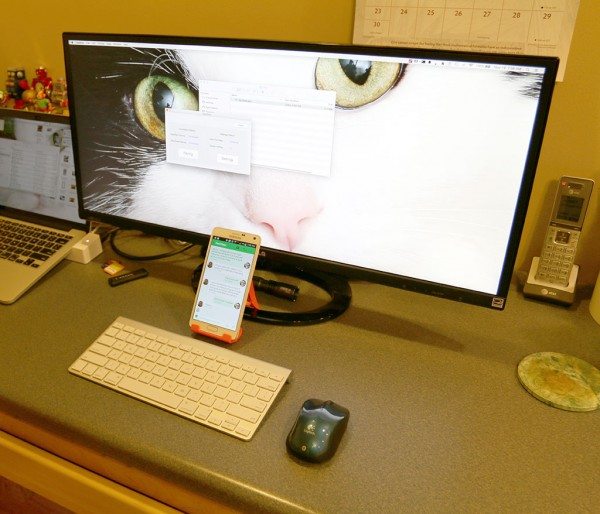 I have a small stand that I use to prop my phone up in front of my Apple wireless keyboard and a Logitech Bluetooth mouse at home…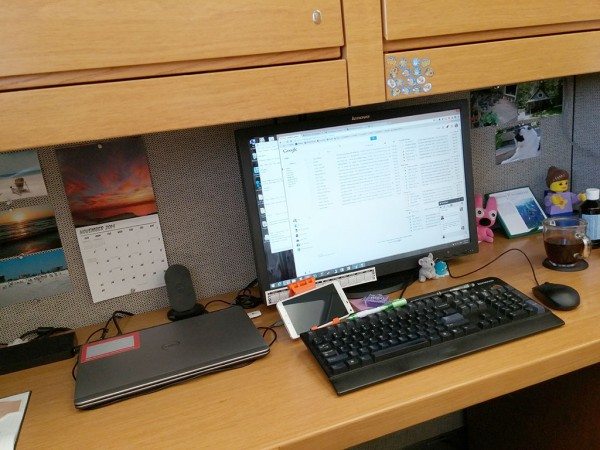 And at my day job I use the same stand propped up in front of a USB keyboard and mouse. When I receive a text message, I don't grab my smartphone and start thumb typing. I just press the hotkey, navigate to the message and start typing my reply on my full-sized keyboard. I love it because I'm a fast touch typist, but not a very quick thumb typist. Having the KeyShair means I don't have to stop what I'm doing to pick up the phone. I just switch from typing on the computer to typing on my phone with a touch of a button. Switching back and forth is instantaneous. Typing and mousing are lag free.
You can even copy text from your PC or Mac and then paste it to your mobile device using standard Ctrl + C on the PC, Cmd + C on the Mac and then Ctrl + V on the mobile device. Unfortunately you can't go the other way around. Copying text on the mobile device won't be pasted to the desktop when you toggle back to it.
The KeyShair is a useful accessory for iOS and Android device owners that will save them from having to carry around a separate keyboard and mouse for those times when they want to quickly input text. The only downside to this gadget is that it a little on the expensive side and that you have to jailbreak iOS devices if you want to enjoy the mouse cursor feature.
Updates 03/19/15
I'm still using the KeyShair and think it's a great accessory, especially for Android users. I keep it plugged into my laptop at work so I can use it if I need to type a long entry into my phone or Nexus 7 tablet or if I need to use my tablet to log into the Gadgeteer web server from work. It's a lot easier and quicker to use than digging out an OTG cable and using that with my full sized keyboard and mouse from my work machine. I highly recommend this adapter.
Source: The sample for this review was provided by IOGEAR. Please visit their site for more info.
Product Information
Price:
$49.95
Manufacturer:
IOGEAR
Requirements:

Windows or Mac computer with a keyboard and mouse

Pros:

Easy to use
Don't have to carry around an extra mouse or keyboard
Can paste text from computer to Android

Cons:

Expensive
Can't paste text from mobile device to computer
Mouse cursor feature will not work with iOS unless device is jailbroken