We use affiliate links. If you buy something through the links on this page, we may earn a commission at no cost to you. Learn more.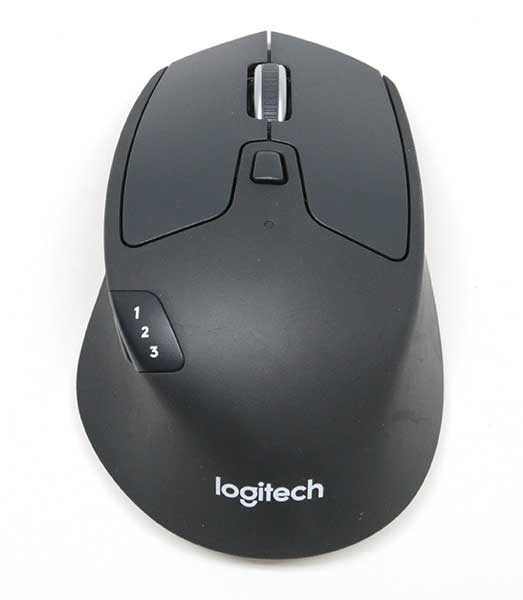 Ever since I reviewed the Logitech K780 multi-device keyboard back in October of last year, I've been looking for a mouse with the same connectivity features. The K780 keyboard has allowed me to use a full-sized keyboard to answer text messages on my Nexus 6P Android smartphone which is great because I can touch type on a physical keyboard much faster than I can with an on-screen keyboard. I thought pairing a mouse with my phone might improve things even further. So it was no surprise when I discovered that Logitech offers a mouse with multi-device connectivity too. Let's take a look.
What is it?
The Logitech M720 Triathlon multi-device mouse is a wireless mouse that uses Bluetooth or an included USB dongle to connect to multiple devices that include laptops, computers and even Android devices.
Design and features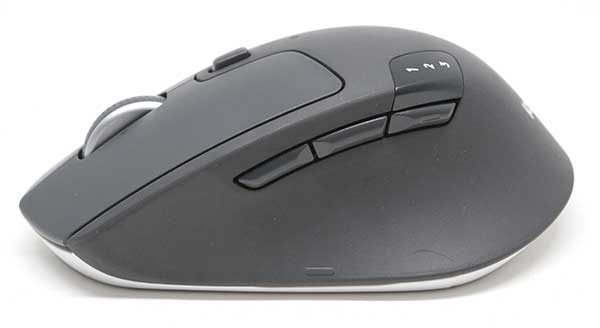 The M720 looks like an ordinary wireless mouse and has a dark gray casing with a soft touch grippy feel.
Note the shape of the mouse. If you're a lefty who won't or can't operate a mouse with your right hand, then this mouse might feel awkward used with a left hand due to the contoured thumb area on the left side. I'm a lefty but always use my right hand to operate mice, so I had no issues with the M720.
Above the thumb rest on the left side of the mouse are three buttons, The front most button is the forward button, the middle button is the back button and the rear button switches between the three paired devices. The numbers above the device switch button light up to show which device it's set to.
I setup the mouse so that device 1 is paired to my Logitech K780 keyboard at home, device 2 is paired to my Nexus 6P and device 3 is paired to my Logitech K780 keyboard at work.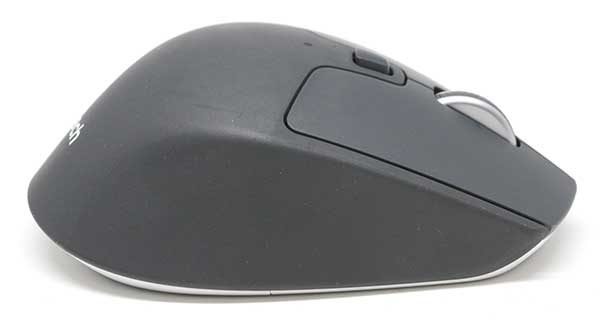 The right edge of the mouse is plain with no buttons.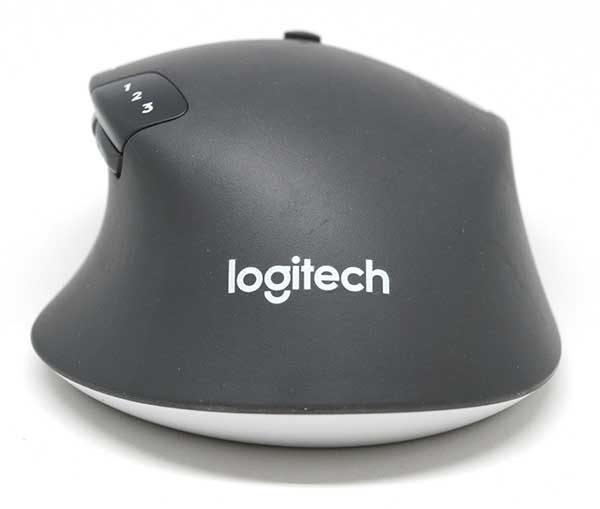 The back of the mouse is nicely shaped so that it fits comfortably in the palm of your hand.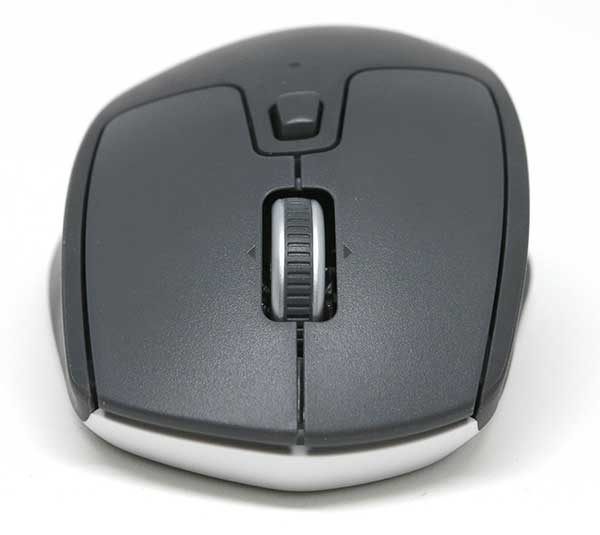 The M720 has left and right mouse button with a scroll wheel between them. The scroll wheel has a nice ratcheted feel when you spin it, or it has a fast  smooth spin if you press the button behind the scroll wheel. Logitech calls this a hyper-fast scroll wheel and they aren't joking. It's really handy if you like to scroll through really long webpages like Pinterest and Facebook.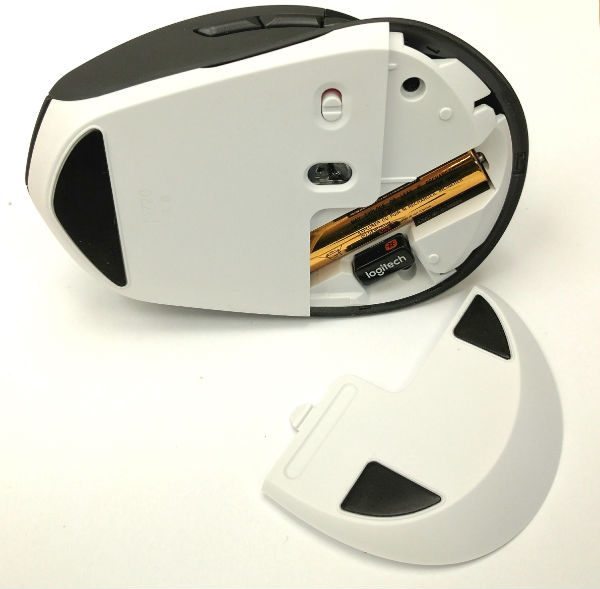 The bottom of the mouse has a power switch and a battery compartment. The Logitech M720 mouse will run for…wait for it… 2 years on one AA battery! And the battery is even included with the mouse.
You'll also find the USB dongle in the battery compartment. I tested connectivity using Bluetooth and the USB dongle. Both work flawlessly when used with my MacBook Pro, a Dell laptop with Windows 8 and a Nexus 6P Android smartphone.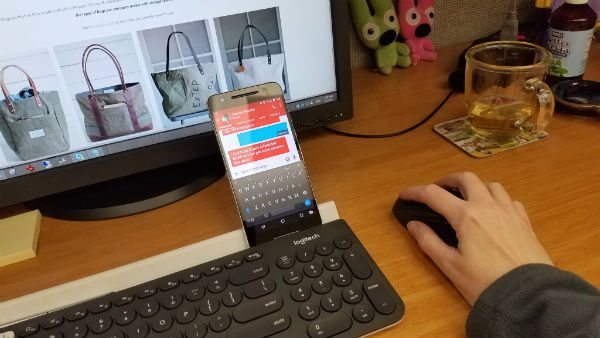 The really cool thing about using a mouse with an Android device is that it puts an arrow cursor on the screen that you can move around just like you do on your full-sized computer. In essence, it turns your Android smartphone into a tiny computer when you pair a mouse and a keyboard with it.
Final thoughts
I've been using this mouse for about a week and have had no issues with it. It doesn't have a short time out period like some wireless mice I've reviewed that become unresponsive after 5 minutes or so and require a button press to wake them up. The Logitech M720 switches between devices quickly and easily with a press of the button, scrolls smoothly and glides across the desk even when you're not using a mouse pad (which I haven't done in years). I have zero complaints about this mouse and will probably order a 2nd one so I can have one at work and at home just like I do with the Logitech K780 keyboards.
Updates 03/10/17
A few weeks ago I started noticing the disconnection issues with this mouse with my MacBook Pro that some of you talked about in the comments below. Like David, I don't have to re-pair the mouse. I just open the Bluetooth prefs from the menu bar using the touchpad on the MBP and the mouse reconnects. This has become annoying though because I use my MBP connected to the LandingZone DOCK and a monitor, so it's almost always closed. When the mouse doesn't respond after the MBP wakes up, I have to open the lid to fix the issue.
I've noticed the same issues with the Logitech K780 Multi-device keyboard too. I didn't have these issues when I first started using these devices with my MacBook Pro, which is strange if it's that common of a problem.
Source: The sample for this review was provided by Logitech. Please visit their site for more info and Amazon to order.