We use affiliate links. If you buy something through the links on this page, we may earn a commission at no cost to you. Learn more.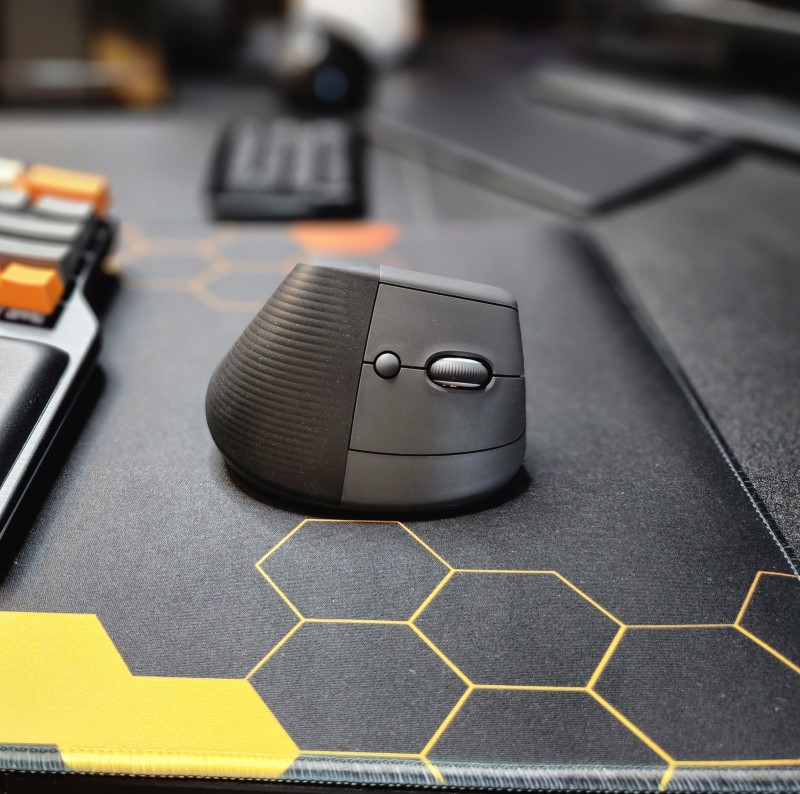 REVIEW – Ergonomics!  I have been fascinated by the topic since finding shoulder pain relief from moving to a fully split keyboard.  The standard mouse design has been around for decades, and is the one most people are familiar with as they traditionally come packaged with their computers.  Logitech is continuing to shake things up with a new entry in the vertical mouse category.  Is this just a novelty, or does it really help keep you comfortable at work?
What is it?
The Logitech Lift Vertical Ergonomic Mouse is a variant of the Logitech MX Vertical as reviewed by Julie, with the most notable changes being the size and supporting features.  The Lift is part of the Ergo series of devices backed by the thinktank of the Logi Ergo Lab.  Logitech has marketed the Lift as best suited for small and medium sized hands, and the MX Vertical for medium and large hands.  The form factor is what makes the Vertical lineup unique.  The 57 degree angle of the mouse surface puts your hand in what Logitech describes as a "natural handshake position" which is meant to alleviate pressure on the wrist and forearm.
The Logitech Lift is offered in black, white or pink colorways, and in both a left and right handed configuration.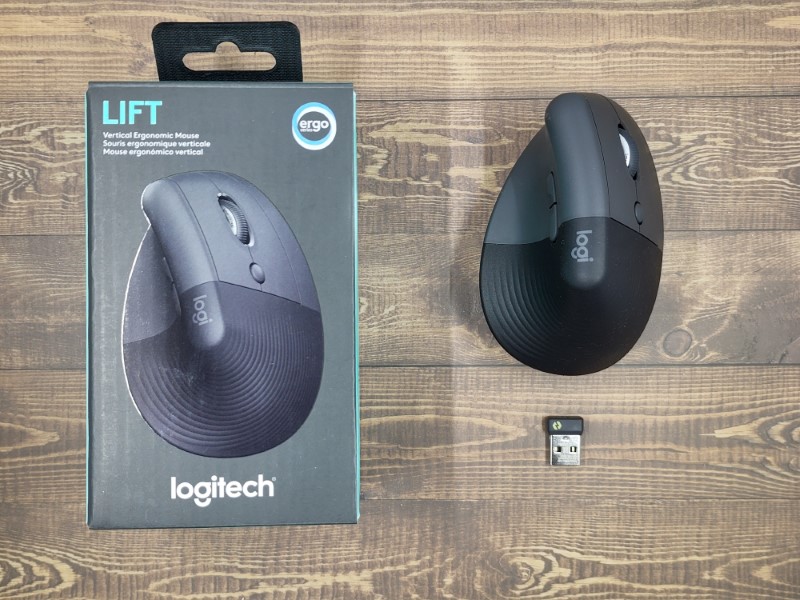 What's in the box?
1 Logitech Lift Vertical Mouse
1 Logi Bolt Receiver
1 AA Battery
Quick start guide
Features and Specifications
Features
Vertical configuration, 57 degree format
Available in left or right handed
Whisper quiet clicks and smooth scrolling
Supports connection to up to three devices, and up to two concurrently (one Bluetooth, one receiver)
Newest generation receiver in Logi Bolt, which includes encryption
Supported by Logi Options+ software for configuration of shortcuts, DPI, etc
1 Year Limited Hardware Warranty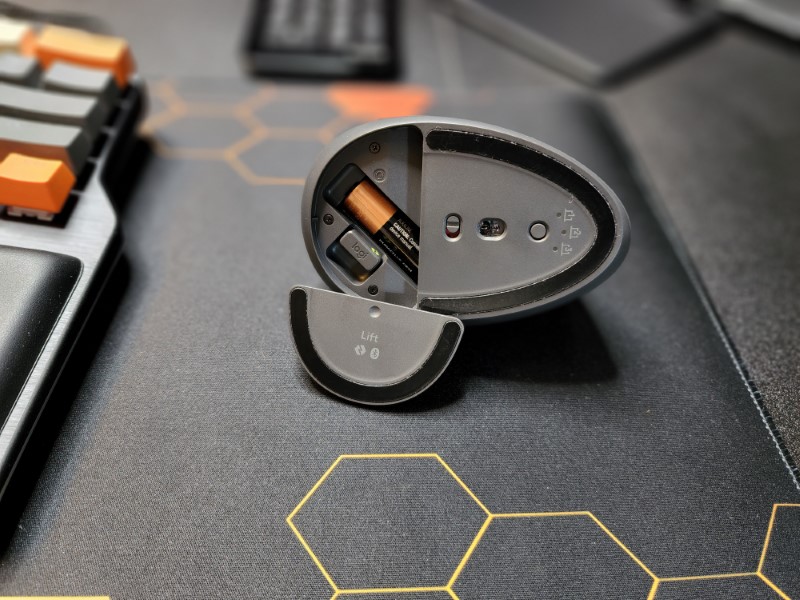 Specifications
Sensor type: Logitech Advanced Optical Tracking
DPI: 400-4000, adjustable
Buttons: Six (Left, Right, Middle, 2x Thumb, 1x Aux)
Weight: 4.4oz
Battery: 1x AA, up to 24 month life
Connection: Logi Bolt USB-A receiver, and Bluetooth LE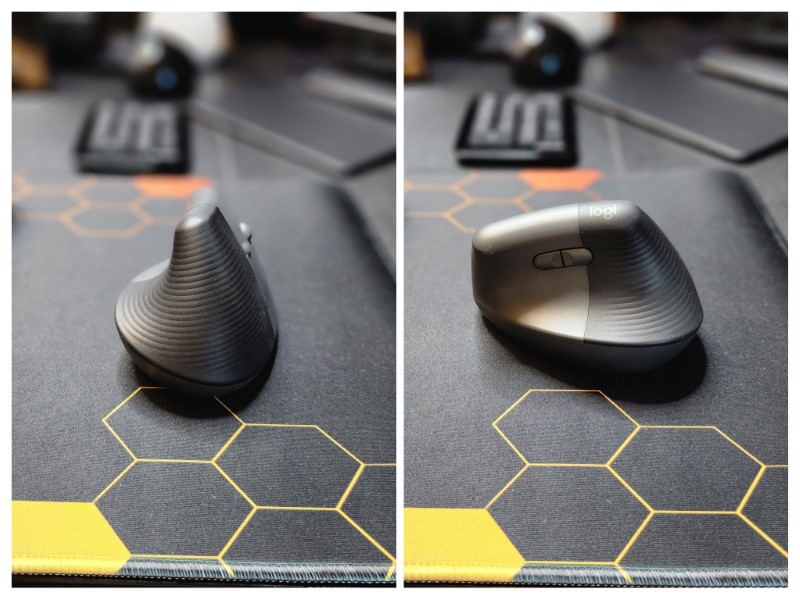 Impressions and Performance
Logitech has done a good job of creating a sense of aesthetic unity in its ecosystem, and the Lift fits right in.  I use a Logitech K860 at work, and the Lift matches that keyboard beautifully.  Out of the box the Lift has the quality fit and finish typical of a higher end Logitech product.
When the MX Vertical came out, I was excited to get my hands on one.  I tried it out at my local office supply store, but was immediately put off by the size.  For me, the mouse just seemed way too big to be comfortable to use.  My hand size is just past Logitech's definition of "medium", but it seems I tend to prefer smaller mice as the Microsoft Sculpt has been the most comfortable mouse that I've found.  I really like the size of the Lift, and my initial impression was that it was comfortable in the hand.
On the tin, Logitech advertises the Lift mouse as having whisper quiet clicks, and it is a very muted sound.  Fortunately this doesn't translate to a mushy interface as you may sometimes get with sound dampening.  The scroll wheel is about average, with tactile feedback and smooth responsiveness.  The dedicated button on the bottom to quickly switch between up to three devices is super convenient and works quite well.  One feature I really miss from my days with the MX Master was the fast scroll wheel option, and sadly it's missing here on the Lift.
Aside from the size, there are a couple differences between the Logitech MX Vertical mouse and Logitech Lift mouse that are worth noting:
The Lift runs on a AA battery, and has no cabling options.  The MX Vertical has an internal battery and a USB-C port.

The tradeoff here is that the Lift will get up to two years out of a battery, where the MX Vertical requires charging approx. every four months.

The Lift runs on the new Bolt receiver, and the MX Vertical is on the now legacy Unifying receiver.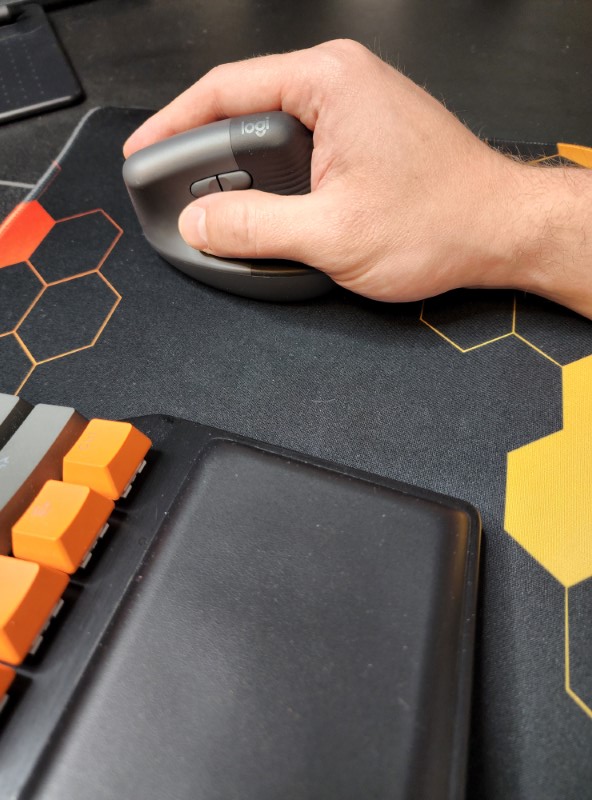 This being the first new Logitech product I've gotten ahold of recently, I've had a chance to learn a bit about the new generation receiver – the Logi Bolt.  The Bolt is the replacement for the Logitech Unifying Receiver, which was essentially a traditional 2.4ghz dongle.  There is a big security and performance emphasis on the Bolt, and standards will always change with the times so its not surprising to see a refresh.  It is worth mentioning that devices made to use the Bolt receiver will not work on the former Unifying receiver.  I am also a bit surprised as to why they went with USB-A, as I've only seen USB-C ports in new laptops over the past couple years (Apple MacBook Pro, and Dell XPS, specifically).
In my workflow I tend to alternate between a trackball and traditional mouse, and the Lift fits in seamlessly.  It's a Logitech so the ability for it to perform well as a mouse is implied (spoiler alert: it does), and the real litmus test here is the differentiator of features and comfort.  Along the same vein of finding a new generation receiver in the Bolt, the Lift is also supported by a new generation of customization software – Logitech's Options Plus.  Not to be confused with the Logitech Options app… which I made the mistake of installing first and wondered why it didn't detect the Lift.  Options Plus is in open beta, but I found it to work rather well and intuitively.  The ability to set the mouse buttons to function differently based on the application is useful.  I tend to take a fair bit of screen caps so I set the auxiliary 'nub' button to fire off the shortcut for my screen capture app.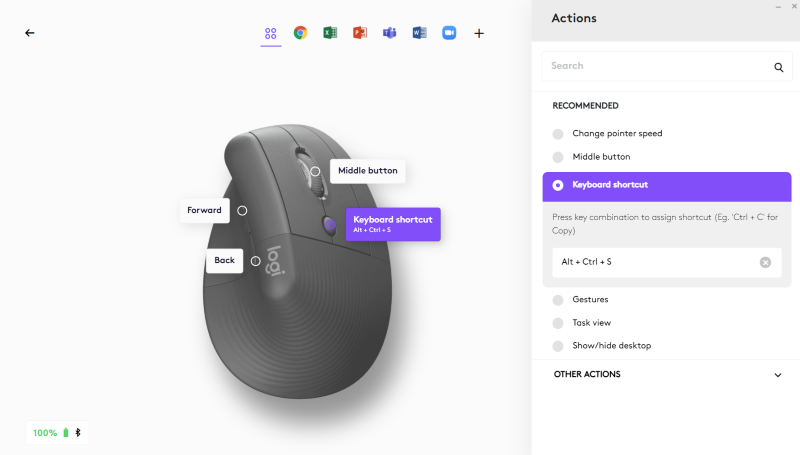 While not a new feature, I had a chance to check out Logitech Flow as it carried over into the Options Plus app.  This strikes me as a software level KVM of sorts, and I was impressed with the ease of setup and performance.  There is just the slightest hesitation when the cursor jumps from one device to the other, and the copy/paste features are incredibly convenient.  On one hand I can see the benefit to this as a home user, but on the other hand I can see this feature being snuffed out quickly in a work environment.
So, finally… the real question.  Is the Logitech Lift mouse comfortable?  Yes.  I've spent nearly a month with this in my workflow, and am thrilled to have an alternative to the Microsoft Sculpt Ergonomic mouse that I have been coveting for so long.  I tend to get pain through my thumb and interior wrist when there's an issue, and none of that has surfaced during my time with the Lift.  The handshake position comes naturally, and doesn't have any ill effects on interfacing with my computer.  Overall, I'm quite pleased with this mouse.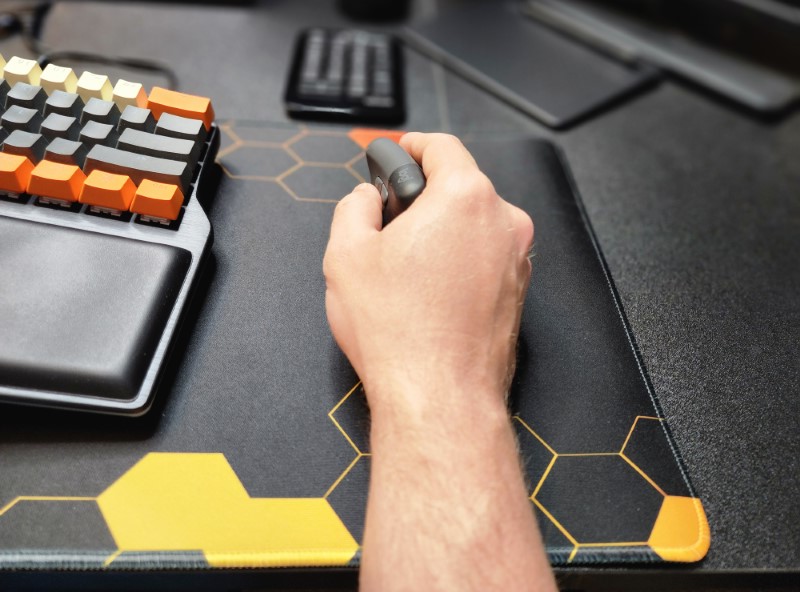 What I like
Ergonomics work for me and in my environment.
Software support is feature rich and adds to the experience.
Good chance I won't ever need to change the battery.
What I'd change
An option to get a Logi Bolt receiver in the USB-C format.
Fast scroll wheel from the Master series should be on every Logitech mouse.
Final thoughts
The Logitech Lift Vertical Ergonomic mouse is a comfortable, feature rich device, and may be perfect if you found the MX Vertical to be too large in the hand.  While Logitech transitions receiver technology from Unifying to Bolt, there will be some pain and annoyance with devices that are not supported cross platform, but such is the price of advancement.  It's worth mentioning that there is more to ergonomics than mice and keyboards, and periodically assessing your workspace with tools such as the OSHA Computer Workstations eTool may be time well spent to improve comfort.
Price: $69.99
Where to buy: Logitech and Amazon
Source: The sample for this review was provided by Logitech.