We use affiliate links. If you buy something through the links on this page, we may earn a commission at no cost to you. Learn more.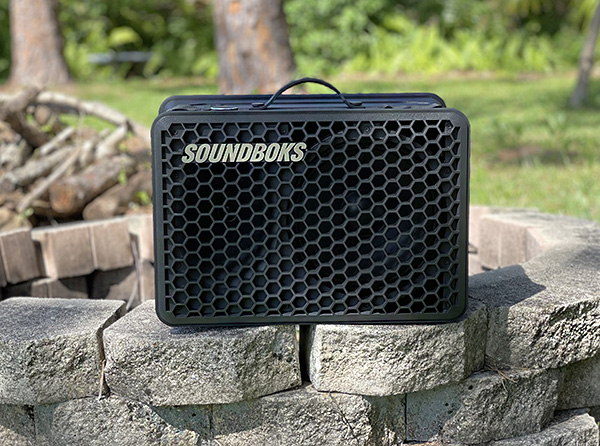 adjective: Portable
able to be easily carried or moved, especially because being of a lighter and smaller version than usual.
Notice that when you look up the word "portable" in the dictionary, you don't find any reference to the new Soundboks Go portable speaker. It's true that the $700 Go speaker is a lighter and smaller version of the massive $1,000 Soundboks Gen. 3 speaker. And it's true that the Go speaker can to be carried and moved around. But easily? Let's talk about that.

What is it?
You could say that the Soundboks Go Bluetooth performance speaker is a smaller sibling to the Soundboks Gen 3 speaker. It's about half the size, so two stacked on top of one another is about the same size as a Gen 3 speaker. Full volume will go to 121 decibels, which is way too loud for indoor use.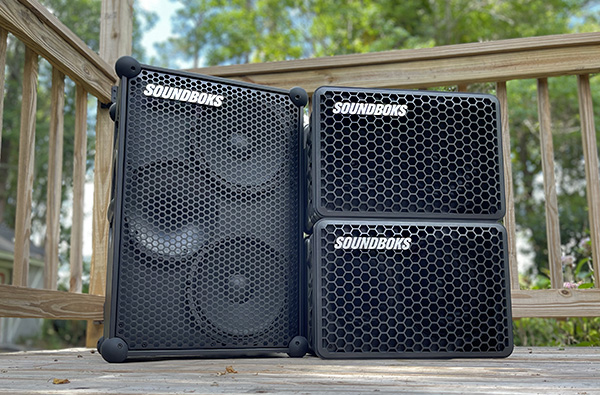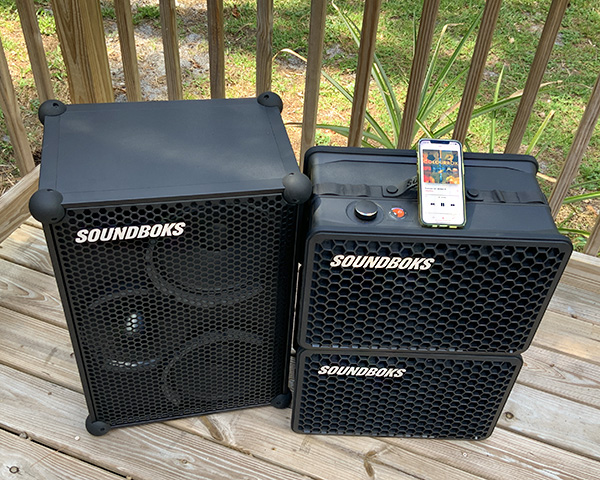 But the Go speaker is made for outdoor use. The exterior consists of a hard and tough dent-free ABS Polycarbonate with rubberized bumper rim on the front and rear of the speaker for drop protection. Strapped to the top is a flexible TPE handle. An optional carrying strap is available.
It comes with a downloadable app that controls Bluetooth settings, EQ, connectivity with other Soundboks speakers, and firmware updates.
The Go speaker has an IP65 splash and rain rating. It can get wet by the pool or caught in the rain, but should not be submerged. 

Specs
Amplifier: 2 × 72 Watt continuous – Class D
Speaker: 10" woofer
1" silk dome tweeter
Frequency range: 40Hz – 20kHz with bass enhancer
Bluetooth 5.0
Wirelessly link up to 5 Soundboks Gen. 3 and Go speakers
3.5mm Stereo Input
Weight: 20 lb.
Dimensions: 18 × 12 × 10 in.
ABS + Polycarbonate cabinet and grill
Silicone Rubber extruded protecting bumper
IP65 rated electronics coating
Battery: Lithium Iron Phosphate (LiFePO4)
Battery life: 40 hours at mid-volume; 10 hours at full volume
Battery charge to 100%: 3.5 hours

Design and features
As I said earlier, calling the Soundboks Go speaker portable is almost a joke—until you see and hold their Gen. 3 speaker. Then it makes sense. It's all about context. However, the Go is still big—at 18 in. (W) x 12 in. (H) x 10 in. (D), still heavy, and still loud.
The Go speaker is perfect for outdoor parties or get-togethers—especially if you have a large yard or deck. This speaker will provide all the music you need at the volume you desire—loud or not-so-loud (notice I didn't say soft).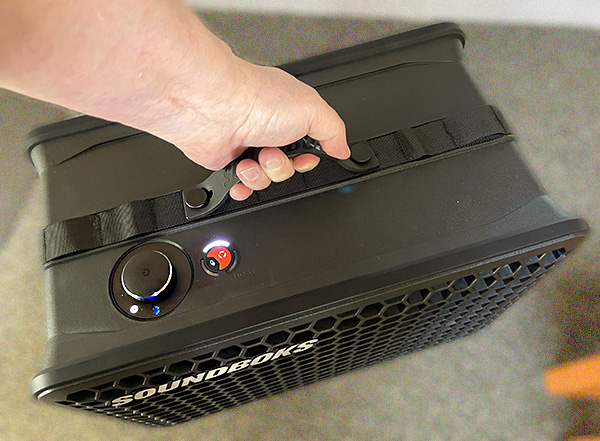 While you might have second thoughts about carrying the Go speaker around, it can be done—for a few yards. If you need to carry the 20 lb. speaker farther, I highly suggest the shoulder strap. Unfortunately, the strap is an extra-cost (and overpriced) $60 option.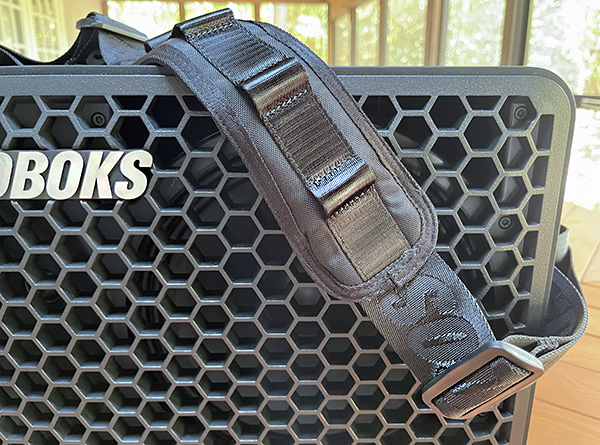 While the design of the Go speaker has some flair, it still has a utilitarian, all business look. I like that. This speaker doesn't prance around like it's designed for the MOMA (Museum of Modern Art) crowd. It says, "Break out the keg and let's party!".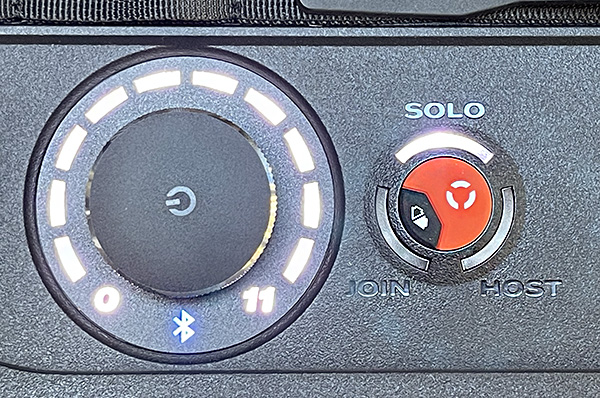 Soundboks has carried over the volume knob from the Gen. 3 speaker—and like that monster speaker, It goes all the way to 11 (you have to see the "Spinal Tap" movie to get that joke). 
This volume button sits on the top of the speaker, along with a button that switches what mode the speaker is set at: Solo—single speaker, Join/Host—grouped with up to 5 other Go (or Gen. 3) speakers. The carrying handle completes the look—simple and functional. Note that the volume and modes can also be set/changed in the Soundboks app as well.
Enabling the Bluetooth setting is straightforward if you are using one Soundboks speaker in Solo mode. If you want to connect more than one—either in tandem or L/R Stereo mode—you must use TeamUp within the app. While this is also straightforward, I did run into some hiccups trying to get Left/Right stereo with two Go Speakers. Once connected though, it performed well and remembered the setting.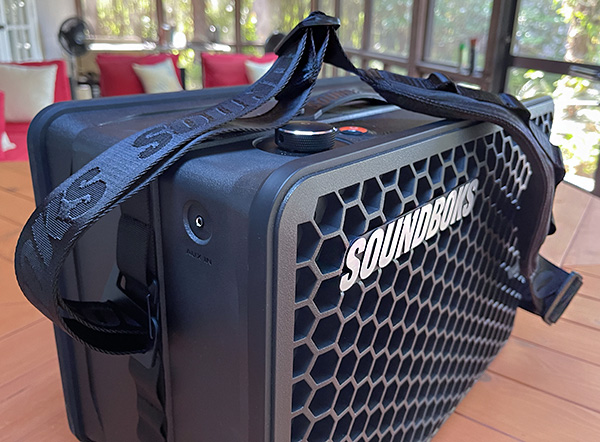 Note that if you have Bluetooth issues or would simply rather have the speaker hard-wired to its musical source, there's a standard 3.5 mm AUX port on the side.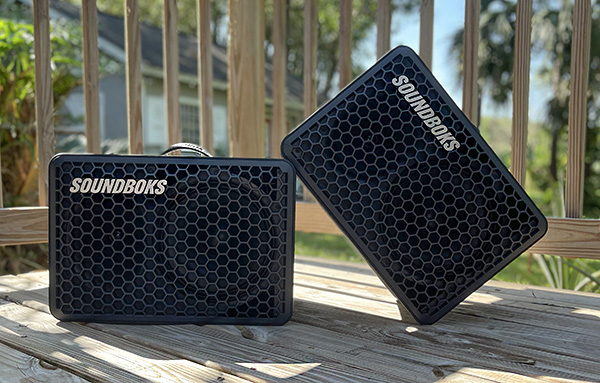 My backyard is over an acre and the size lets me test volume at a distance. With two Go speakers set on the deck pointing towards the back of the yard, I was able to get more than reasonable volume (almost to 11) across the yard—enough to anger our neighbor if I chose. I didn't.
I played "God's Gonna Cut You Down" by Johnny Cash. The pounding percussion cut through everything. All I could hear was music, which probably frightened the squirrels. The song was so much fun blasting across my yard!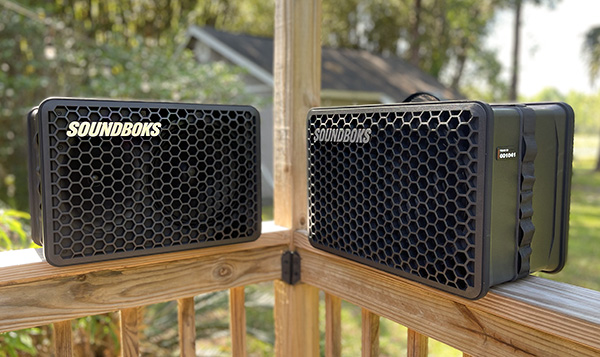 Yet, despite having Johnny Cash serenading my trees, I discovered that you don't need two Go speakers to blast a party. Far from it. If one Go speaker will go to 121dB, two speakers does not equal 242 dB. Sound doesn't work that way. Also, you might be thinking you can get true left/right stereo from two speakers set up in Host/Join mode. Technically, yes, you will get true left and right signals going to each left and right speaker. However, when outdoors, the signals mix almost negating any stereo effect. In other words, the main advantage to using more than one Go speaker if you want to spread the audio around the yard wirelessly.

The main reason you can hear Mr. Cash across my yard so well is because of the Go speaker's wattage. There are two 72 watt class D amplifiers driving a single 10 in. woofer and a 1 in. silk tweeter. That's some serious firepower. The frequency's range goes from a low 40Hz to a (mostly) out-of-human-hearing-range 20kHz. This frequency range will help your music sound its best when outdoors. And with Bass Boost on, loudness can reach 121 dB—too loud to stand next to. Seriously, this speaker blows away most outdoor speakers I've heard—except for the Gen. 2 Soundboks (of course).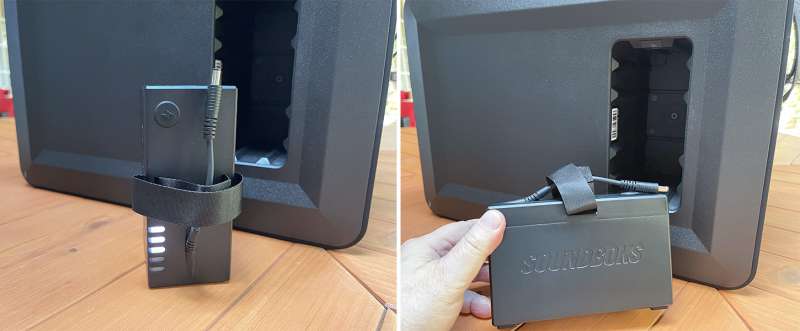 Also, power that the Go speaker generates will last a long time because the Go's battery is the same that drives the Gen 3 speaker. It's a removable style that fits perfectly into a slot built into the cabinet. Battery life is 40 hours at 50% volume and 10 hours at maximum (11) volume. Trust me, no party blasting max volume this speaker will last 10 hours.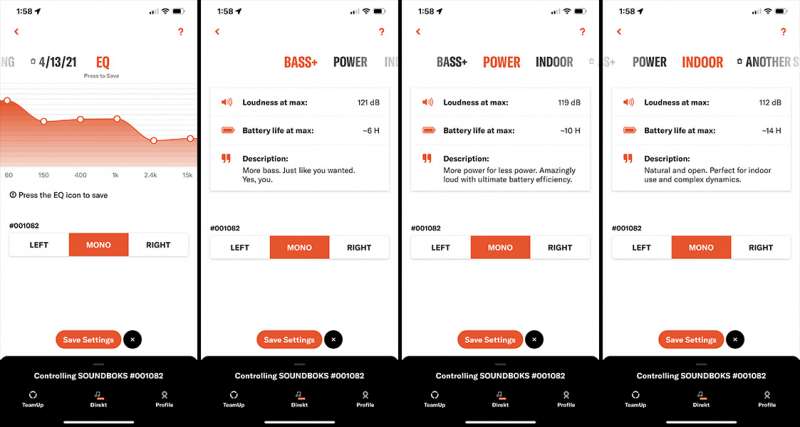 Let's talk about the app. Soundboks added some audio tweaks to the Go speaker depending on where it's used. There's separate indoor and 2 outdoor choices. The Power mode is the default audio setting. It offers the midrange of audio quality and battery life. If you want more bass outdoors (bass dissipates quickly outdoors over distances), the Go app has a Bass+ setting. This will noticeably crank up the bass at the expense of battery life, but it does sound better. The Indoor setting has the best battery life because it dials down everything for interior listening. I'm not a big fan of Indoor mode because it reduces bass quite a bit to my ears (which can be compensated for with the app's Equalizer). Even so, I have speakers made for indoor listening that sound better. Granted, if I moved these same indoor speakers outside, the Go speaker would—no surprise—blow them away. Again, context.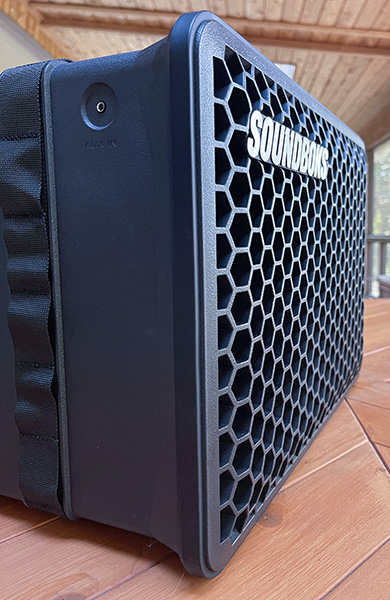 Soundboks has introduced a new feature in its app—Direkt. I'm still trying to figure out how Direkt works. According to Soundboks, "With Direkt, we're giving owners exclusive access to dance floors and turntables around the world. On any given Friday or Saturday night, you'll be able to open the Soundboks app and stream weekend sets from some of our favorite artists—direct from the decks in clubs and studios in Copenhagen, Barcelona, London, LA and beyond." I have yet to successfully try this out when it's live. The club choices listed in the app state either "Upcoming" or "Past". In other words, the music cannot be accessed unless it's live. Maybe it's a music rights thing in the US. Last Saturday afternoon, I was too late because of European time zones (CET). You can schedule upcoming events online, which I still need to do.

What I like
Portability (well, technically)
Sounds great outdoors
Long-lasting, removable battery
Bluetooth 5.0 and AUX
Tough build quality
Can be paired for true left/right stereo
Can be combined with other Go or Gen. 2 Soundbok speakers

What I'd change
Expensive, especially when combined with a second Go speaker

Final Thoughts
Outdoors, about the only speaker that outshines the Soundboks Go speaker is the Soundboks Gen. 3 speaker. Although the Go is about half the size of the Gen. 3, it's more than half the sound of the Gen. 3—much, much more.
Price: $699 US
Where to buy: Amazon
Source: The sample of this product was provided by Soundboks.