We use affiliate links. If you buy something through the links on this page, we may earn a commission at no cost to you. Learn more.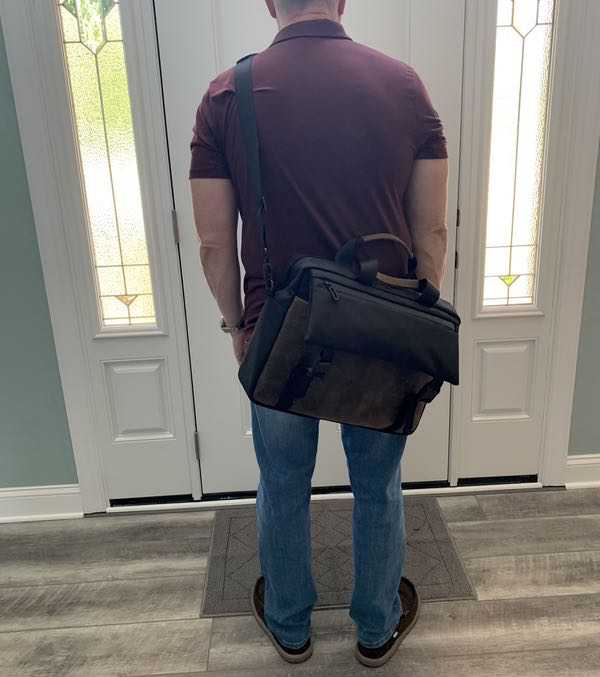 REVIEW – Briefcases are hit or miss for me. I often find them to be too small for my needs, too big to be practical, or built around odd styling. So here comes the Waterfield Agile Briefcase to challenge my thinking. It's pretty. It's functional. It's from Waterfield, who makes some of the best bags in the business. Did it change my thinking? Am I a convert to that briefcase life? To the review!
What is it?
It's a slim briefcase with dedicated spaces for up to a 16″ MacBook Pro and a 12.9″ MacBook Pro (including the Magic Keyboard).
Hardware specs
15.5" (l) x 4" (w) x 11.5" (h)
2.25 lbs
11.7 liter capacity
1050 Deneir black ballistic nylon base or waxed canvas base (depending on style)
Full grain leather accents
Laptop slot fits up to 16″ MacBook Pro
Tablet slot fits up to 12.9″ iPad Pro with Magic Keyboard
Design and features
The Agile Briefcase presents with a clean, mature design that nails the "business-to-business-casual" design aesthetic. Ballistic nylon is your primary material (waxed canvas is also an option) blended with sophisticated leather accents and a full-leather front panel. The net result is an upscale look that will dress up with a suit, but doesn't look out of place with jeans on a business casual workday.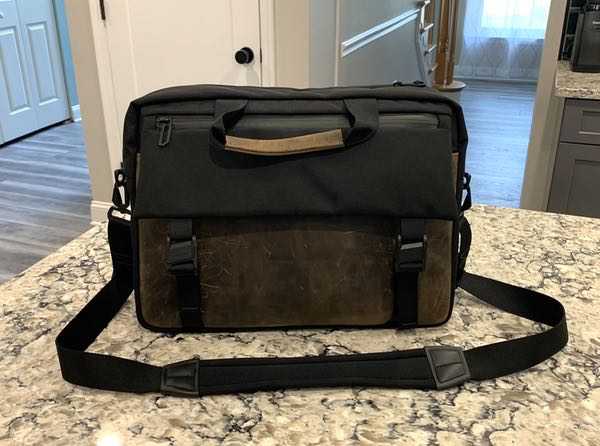 The side angle shows the trim profile. This bag measures 15.5″ long, 11.5″ tall, and 4″ deep. This is a bag for your office gear with a wee bit of extra room for essentials as we'll see in a moment.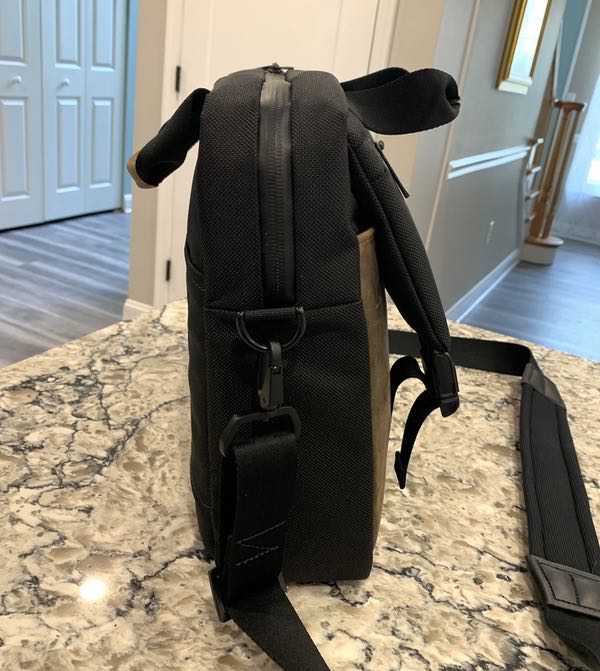 The Agile Briefcase is travel-friendly with a luggage handle pass-through on the back side.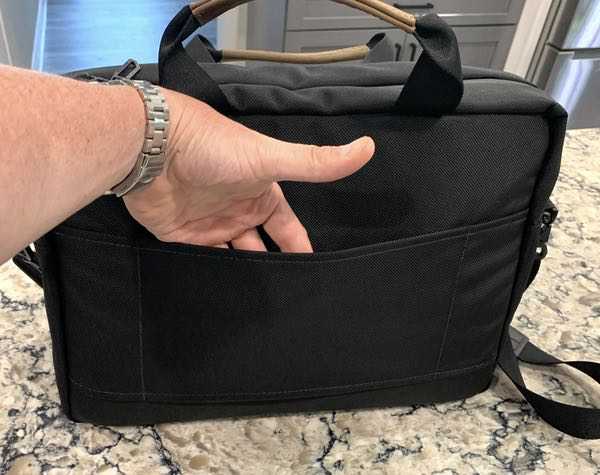 Every Waterfield bag shines when it comes to the little details in the fit & finish. I love these grab handles, for example. The nylon strap carry strap is wide, but Waterfield folds it over and wraps it in leather for a comfortable grip. The stitching and seamwork is perfection.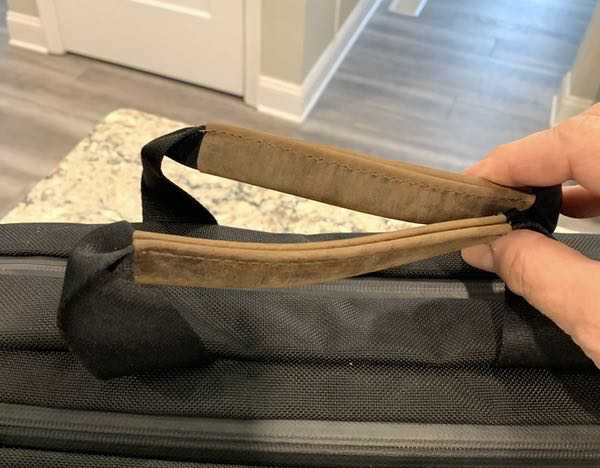 The hardware is top-notch throughout the build. Sealed zips add water resistance, with custom zip pulls.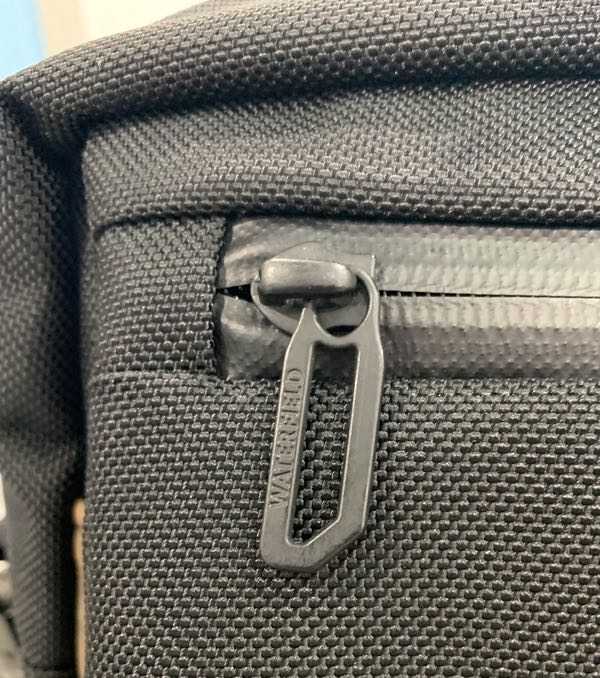 I'm also a fan of the chunky hardware on the shoulder strap with that rotating clip. This keeps your straps from getting twisted up when you're throwing the bag on or off your shoulder.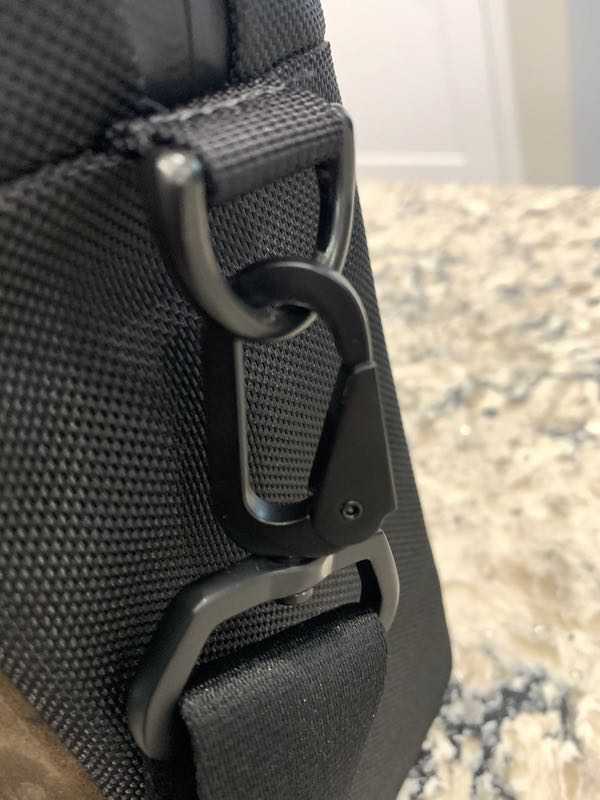 Even the shoulder pad strap is trimmed with leather, and sports a neoprene underside so that it doesn't slide around on your shoulder.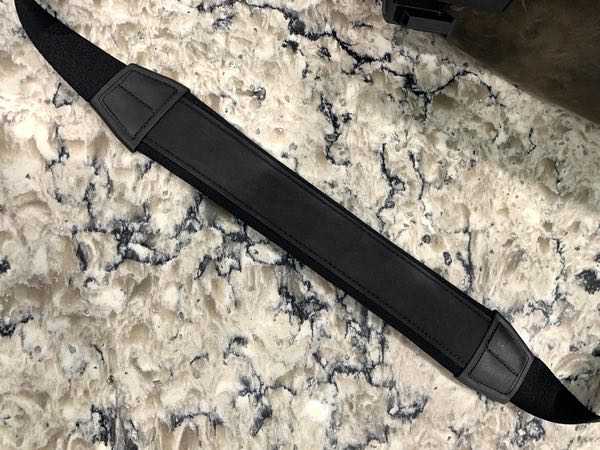 The front panel is a full sheet of full-grain leather that's available in two finishes. It's gorgeous, and already acquiring a lovely patina after 4 weeks of use.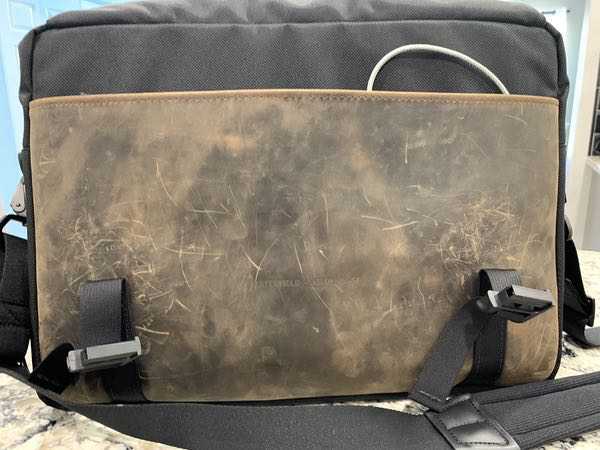 The Waterfield Agile Briefcase gives you two external pockets to get to your stuff without entering the bag. There's a flap on the front of the bag that serves as a quick access pocket. At 5-1/2″ deep, this pocket is for your quick grab stuff like your phone, work ID, wallet, and the like. Check out the beautiful gold custom interior that makes finding your things easy.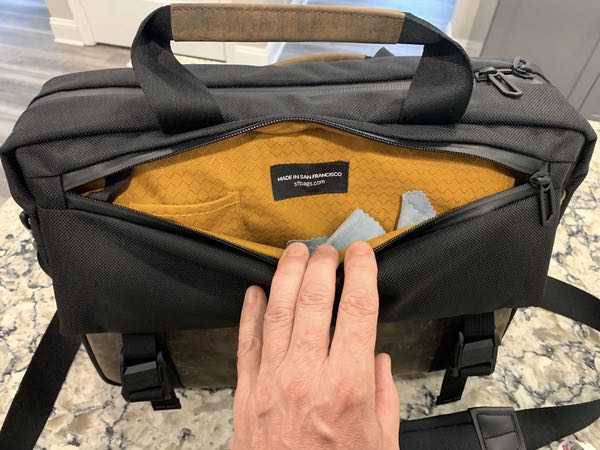 Be still my heart, there's a key leash up in there!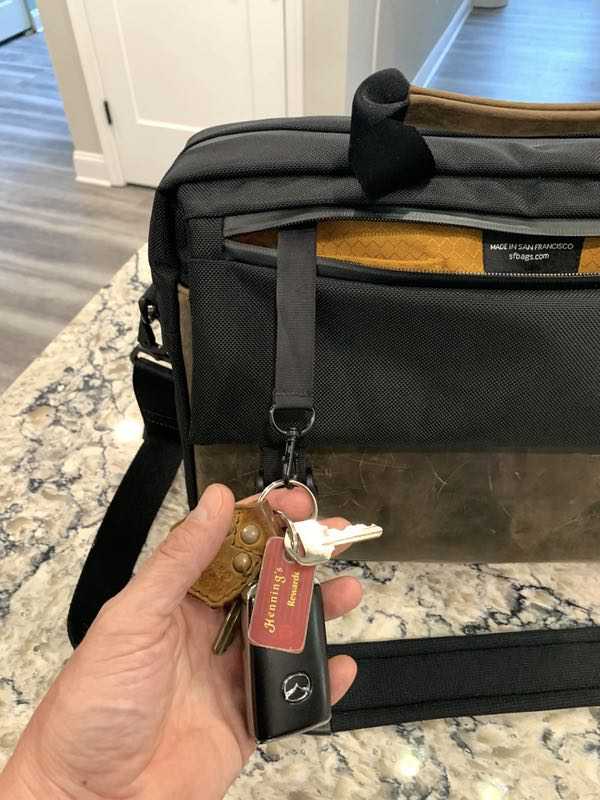 There's also a small 4″ by 4″ pocket on that side that I feel is a little small for large phones, but my wallet fits in there. Or my work badge & lanyard. The rest of the space is open for tossing in the other extras you need on the run.
This flap/pocket latches to the front of the bag like a messenger bag would, using Fidlock magnetic clasps to keep it in place. It's designed to be opened with one hand. You slide the sections apart to open it up.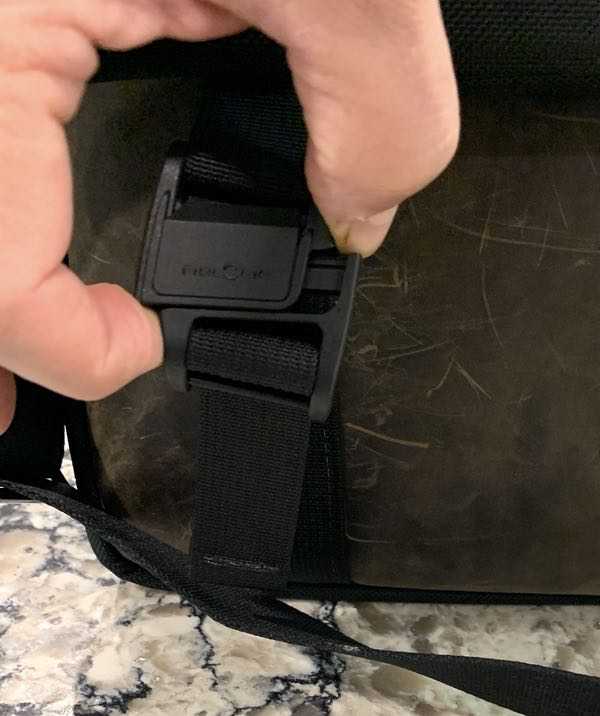 Thanks to the magnetic buckles, those clasps will automatically snap shut if they get close to each other. The straps have a length adjustment on them so you can strap down something in under the buckles.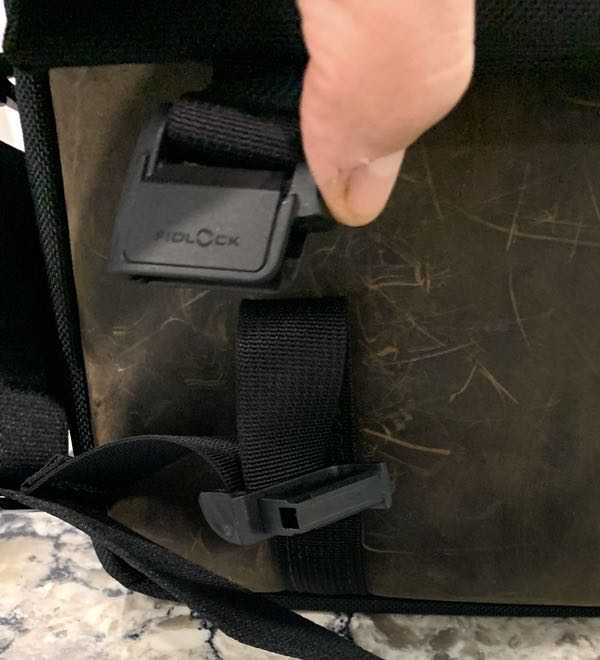 Open both straps to reveal a second pocket under the flap behind that leather panel.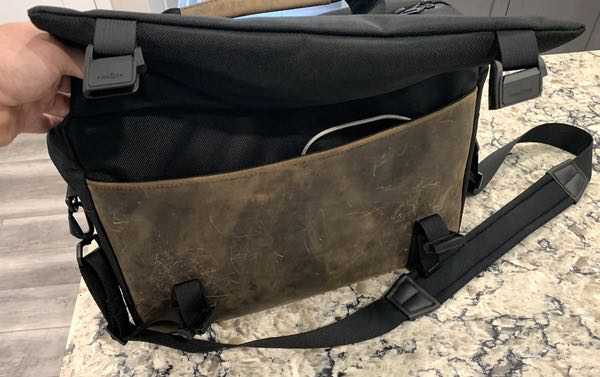 This narrow pocket measures in at 8.5″ by 15″ and is best for thin cargo. I keep my notebook in here along with my charging cables. That's a 5-1/2″ by 8″ Leuchtturm 1917 notebook for reference. You could also use this spot to stash a file folder or two, travel documents, and similar things. This space does not crash the capacity of the main compartment.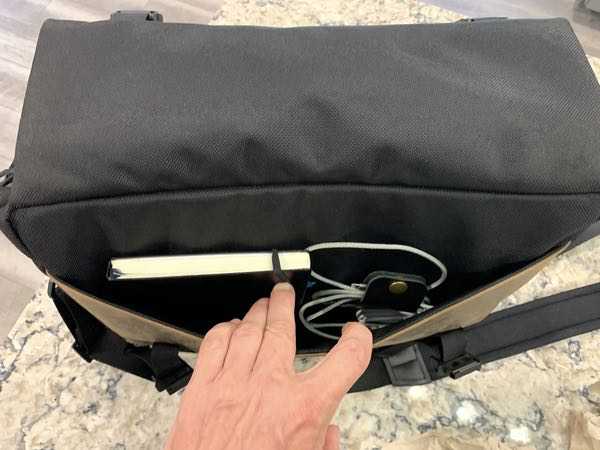 Access to the main compartment is through dual zips on the top of the bag.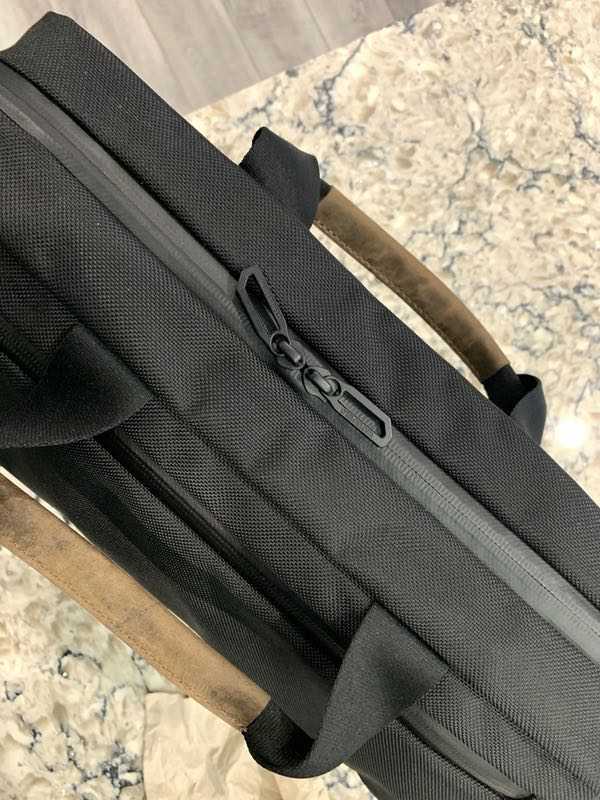 Open 'er up and you'll find padded compartments for your laptop and tablet. There's a velcro tab to keep your moneymakers secure.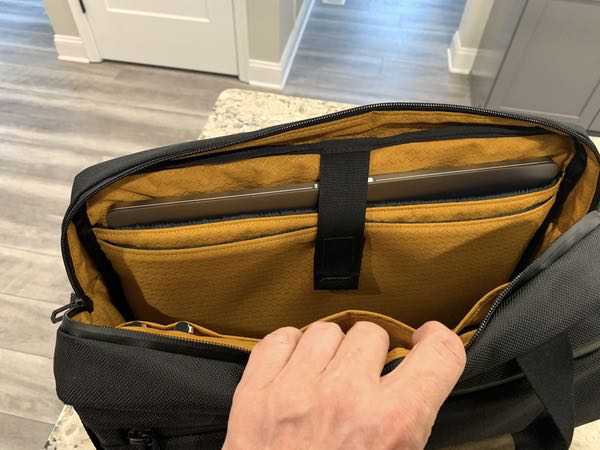 We're carrying the theme over from the front pocket with the custom gold liner for visibility. The rear pocket fits up to a 16″ MacBook Pro as shown here, while the pocket in front will fit a 12.9″ iPad Pro including the Magic Keyboard. You could get a 13″ MacBook Air in that spot instead of a tablet.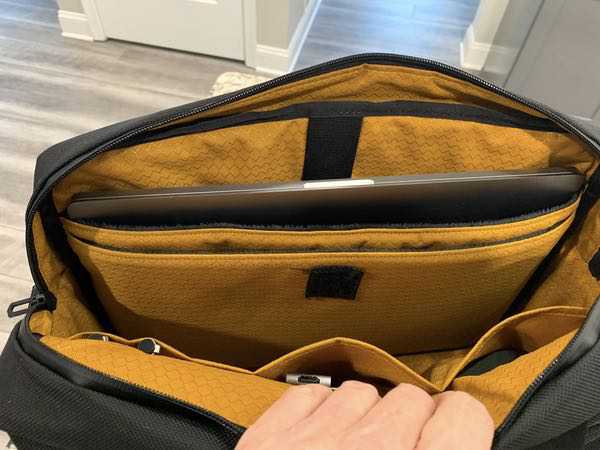 The laptop and tablet pockets are both lined with a luxurious fur. It's super-soft to protect your equipment. I kinda want to snuggle in there for a nap.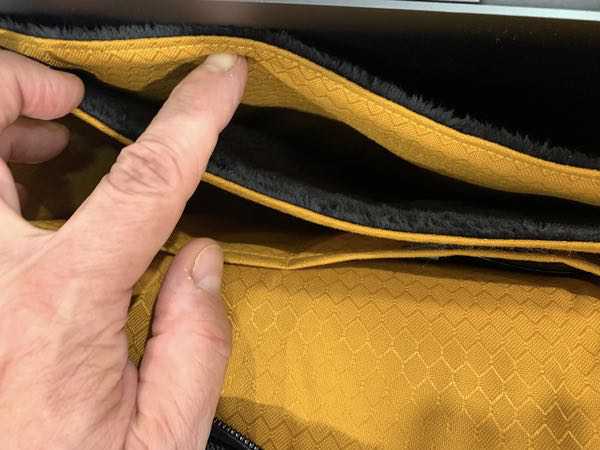 The front face of the bag sports 3 oversized pen slots and two additional pockets for power bricks, your mouse, and whatnot. With all that loaded you'll still have space for some additional items in the main chamber, as I'll demonstrate below.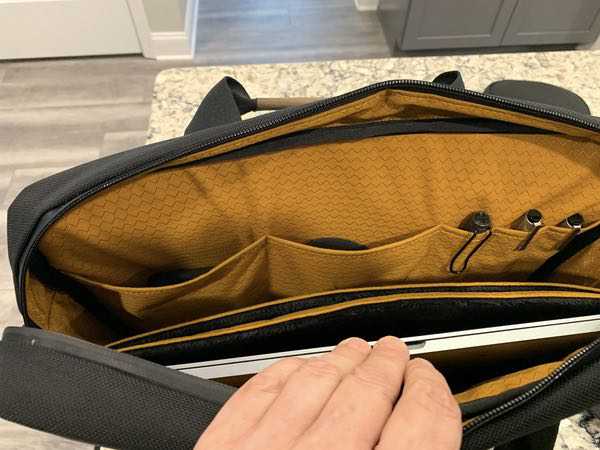 Waterfield has always been one of the best when it comes to build quality. I cannot overstate how tight the build is on this bag. Every edge is finished and reinforced with no loose bits or waggle to be found. Combine that with the custom linings, leather accents, and premium hardware and you've got a bag that lives up to its price tag. 
Performance
The Waterfield Agile Briefcase is a streamlined, focused piece of kit that adapts nicely to today's flexible work environments. It handles all of your critical work gear & technology without being a chunky beast, and looks great in any situation. Is it a suit day for a big presentation? Business meeting at the Starbucks? Jeans and a polo shirt for a business casual day? You're covered. Your bag is classy as hell. You look great. Go get it.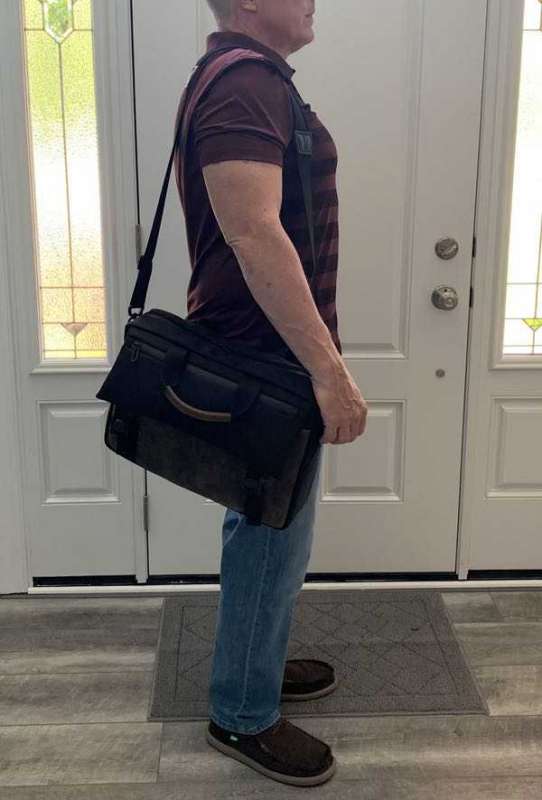 I really like that the strap is long enough to use on one shoulder or cross body (I have it slung messenger style in the opening pic for the article). I'm 5'10" and 200 pounds for reference. It fits nicely either way across my chunkish frame.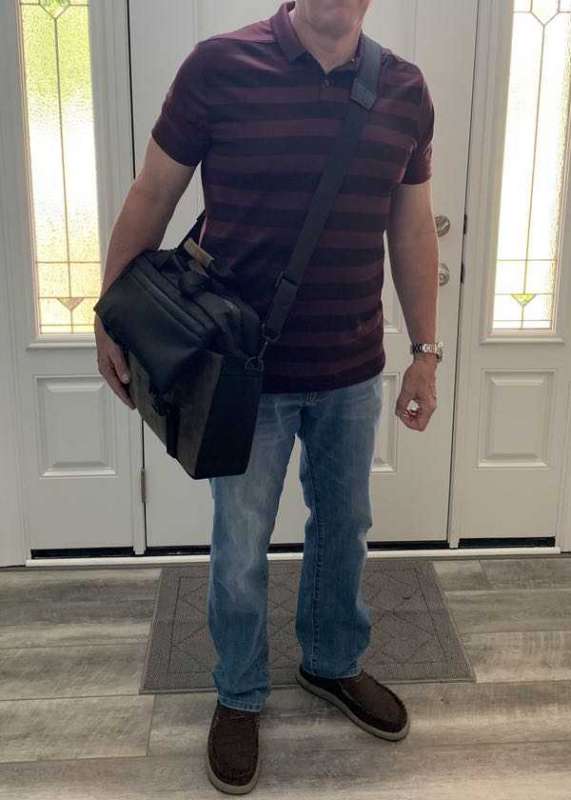 You can do the traditional handle carry, too. You won't be overpacking due to the bag size, so weight isn't an issue.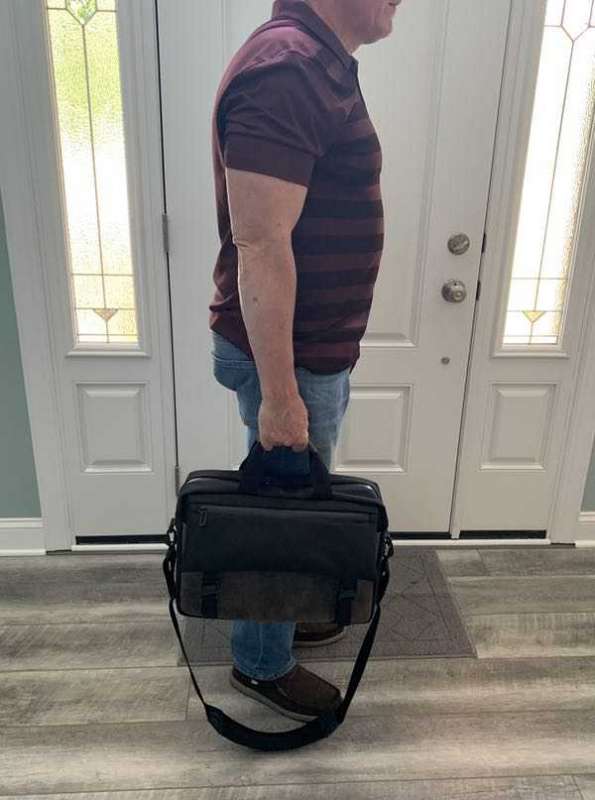 I'm a big fan of packing zones for different purposes, and the Agile Briefcase delivers a lot of usability in that regard. I like that the front pocket isn't super deep so that I'm not fishing for my quick grab items.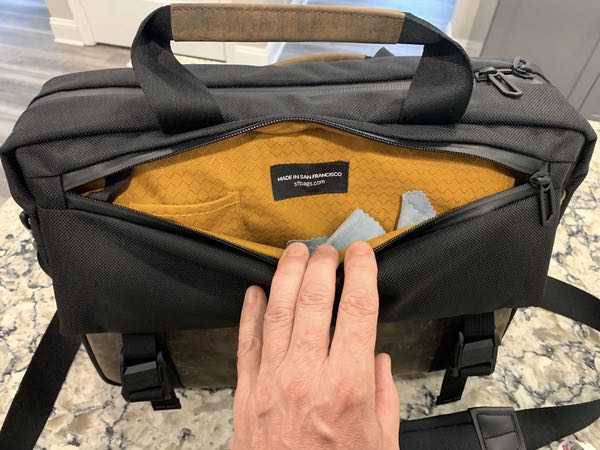 Second-tier access to that front pocket takes some getting used to with those Fidlock buckles. I find that they tend to snap regularly when the magnets catch, so sometimes there is some fiddling to get in there. The slide-to-unlock operation also takes some practice to master quickly. On the plus side you won't accidentally leave the bag open if you go sprinting across the train platform. I also suspect that the operation of the Fidlock clasps will deter casual pickpockets.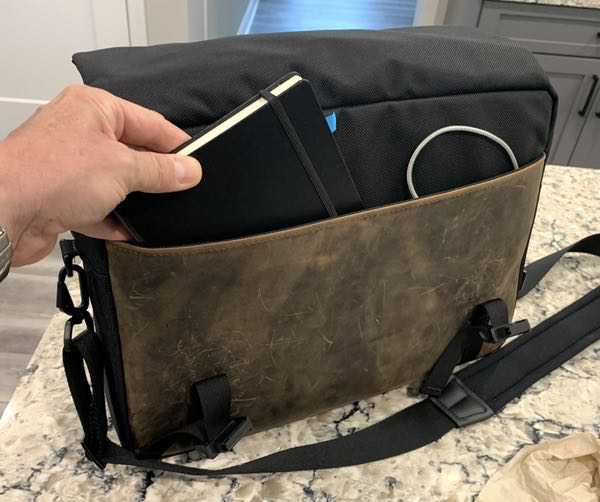 I do find myself using those straps to secure a light jacket quite often for the office. I suppose you could hang other items off of them as well.
All of your spaces and compartments are dialed in for tech and office accessories. The pocketing is great. There are just enough places to organize your bits without an excess of pockets to keep track of. Despite the narrow dimension, I've found that I can eke out room for some extra things. Here I have my big ol' 28 ounce Yeti hydration bottle stashed in the main compartment for reference. Not only does it fit, but the height of the bag is such that I can zip it closed without the bottle peeking out.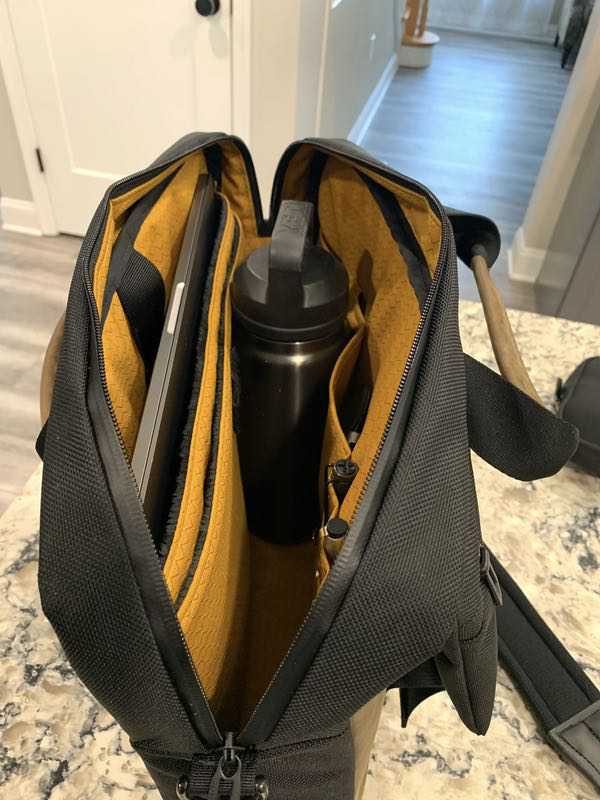 Note that that is only possible because I don't have a tablet snuggled in there next to my laptop. I've been using my smaller 18 ounce Yeti for my daily go-to in order to allow room for the rest of my gear. My work-issued headphones will fit in there, and I can stack a few items with that extra height. I'll get a couple of snack/lunch containers in there on top of the bottle and my headphones.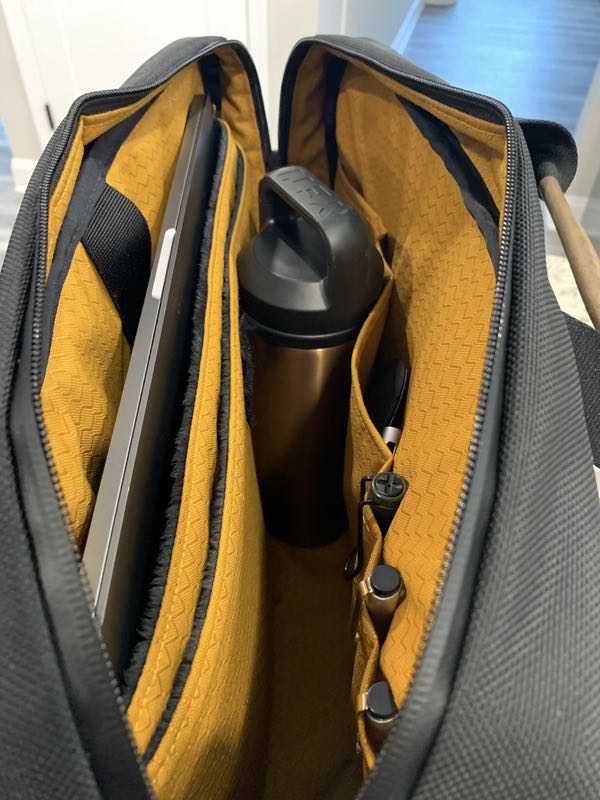 What I like
Top-quality materials, construction, and quality
Superb attention to the details in the fit & finish
Excellent pocket layout
Comfortable to carry
Fits a 16″ MacBook Pro and a 12.9″ iPad Pro (with Magic Keyboard) in a compact brief
What needs to be improved
Front flap design is great for security, but the Fidlock buckles take some getting used to
Final thoughts
The Waterfield Agile Briefcase has not only taken the top spot in my briefcase lineup, but it's become one my favorite pieces of EDC gear for the office. It truly is that good.
There aren't too many bags in this category that are designed to carry a 16″ MacBook Pro, a 12.9″ iPad Pro with the Magic Keyboard AND accessories unless you get into (a) messenger bags; (b) backpacks; or (c) big honking brief-style bags. This carries all those things with *just* enough room to spare for a few extra bits while still being a streamlined carry. The overall usability is outstanding as either a daily office hauler or a travel partner. And the styling is classy enough to rock in formal situations, but it dresses down just as well so you don't need to reach for another bag on business casual days.
It's a bit on the pricey side but you're getting a Waterfield's exceptional quality, craftsmanship, and attention to detail. It's worth the extra bucks in my opinion.
Price: $349.00
Where to buy: Waterfield Designs
Source: The sample of this product was provided by Waterfield Designs.