We use affiliate links. If you buy something through the links on this page, we may earn a commission at no cost to you. Learn more.
There used to be a time when a new Bluetooth headset would come out every other day. I rarely speak on the phone anymore, but I do have a collection of Bluetooth headset lying around. The Plantronics Voyager 3240 is the latest version of their Voyager lineup, and I just happen to have the previous version the Voyager Edge. How different is the 3240 vs, the older Edge?
Listen/talk time: Up to 6 hours plus up to 10 extra hours with charging case (available in select bundles); up to 7 days standby time
Range: Up to 98 feet (30 meters) with Class 1 Bluetooth enabled device
Audio performance: Triple-mic DSP noise-canceling technology, mobile wideband compatibility up to 6,800 Hz; echo cancellation, proprietary DSP, A2DP, mobile wideband compatibility (HD Voice enabled)
Hearing protection: SoundGuard®: Sound leveling for listening comfort and acoustic limiting for protection against sounds above 118 dBA
Headset controls: Call answer/ignore/end/redial, mute, volume +/-, smartphone VPA access, power on/off
Weight: 9 g/0.019 lbs
Wireless frequency: Bluetooth v4.1
Smart sensors: Answer calls by simply putting on the headset. Automatically transfer calls between mobile phone and headset based on wearing state (enabled using Plantronics Hub mobile app)
Multipoint technology: Stay connected to two phones and answer calls from either one
Streams audio: Stream music, driving directions, podcasts, and more with Bluetooth Advanced Audio Distribution Profile (A2DP)
Voice alerts: Enhanced voice alerts announce talk-time, mute, connection status, and more
Firmware: Update firmware and change language settings using Plantronics Hub for iOS/Android
My sample came with the headset, ear accessories, charging cable and the external battery "dock".
Thankfully, Plantronics provides this handy reference sheet to decipher what all the buttons and controls are for.
The 3240 is a "shove in your ear" kind of headset.  It does not wrap around your ear unless you use the optional hook. I've never had an issue with poor fit.
This dock gives you the option to top off your headset battery when your'e away from a home charger.  Yes, you can charge the headset itself directly from a microUSB cable, or you can just leave the "dock" plugged in and drop in the headset when you need to fuel up. Tapping the top of the dock illuminates red or blue LEDs showing the charge status of each battery.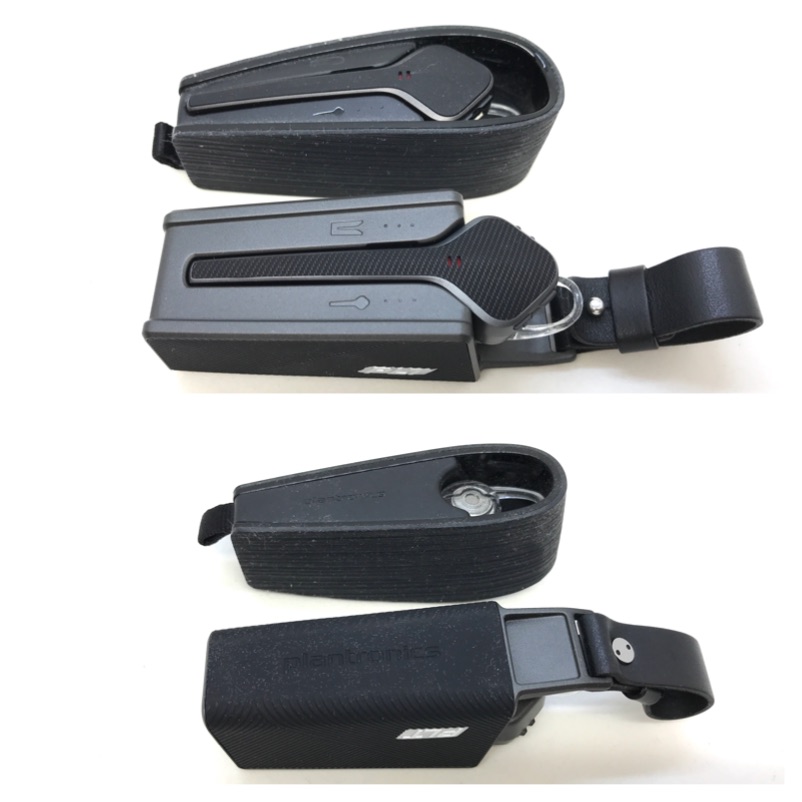 Keen-eyed readers will notice the similarity to the previous headset version, the excellent Voyager Edge. It is difficult to tell them apart aside from differences in color and finish.  The charging docks are different, of course.  In case you're curious, the two docks are cross-compatible.
But how does the headset sound?  Incoming audio is loud and clear, but to me, the outgoing audio is just as important.  To test this, I recorded samples of both the older Edge and the newer 3240 in my garage with a Shop Vac running.
It seems they both cancel out background noise pretty well, but I'd give the "edge" to the newer 3240 for sounding slightly more natural and recovering from the effects of background noise a little better.
If you already own the Plantronics Voyager Edge and you're happy with it, there's not any huge reason to upgrade. But if you're looking to move up to a high-quality Bluetooth headset with excellent outgoing voice quality, consider the Plantronics Voyager 3240.
Source: The sample for this review was provided by Plantronics. Please visit their site for more info and you can order one from Amazon.
Product Information
| | |
| --- | --- |
| Price: | $129.99 MSRP |
| Manufacturer: | Plantronics |
| Retailer: | Amazon |
| Requirements: | |
| Pros: | Lightweight, excellent outgoing voice clarity |
| Cons: | A little expensive. Only slightly better than the older Voyager Edge headset. |